COVID-19 RESPONSE: FREELY AVAILABLE GSO STANDARDS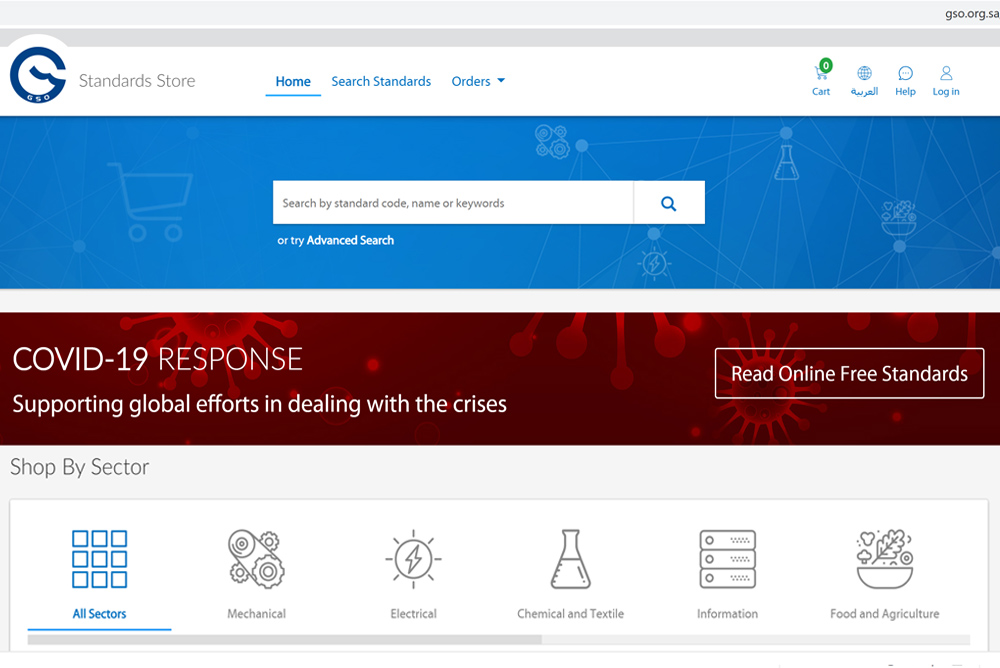 GSO in coordination with GSO Member States have decided to exceptionally offer the standards for critical care ventilators free of charge to relevant industries, in line with the initiative announced by The International Organization for Standardization (ISO) and The International Electrotechnical Commission (IEC) to support global efforts in dealing with the COVID-19 crisis and in complementarity with the precautionary measures taken by the governments of the GCC States to combat the Corona pandemic and reduce its repercussions.
His Excellency Mr. Saud bin Nasser Al-Khusaibi, GSO president, stated that GSO has launched a website a page on GSO Standards Store, providing a package of standards related to risk and emergency management, business continuity, manufacturing of medical electrical devices and equipment, ventilators, protective clothing, and others.
Mr. AlKhusaibi added that the package has been compiled to support global efforts in dealing with the COVID-19 crisis and it includes a number of (1) Standards prepared by GSO, which can be requested free of charge from GSO Customer Support Center, (2) ISO Standards which are freely available to read online from ISO website, (3) IEC standards offered free of charge on its website for industries who are developing critical care ventilators or converting their existing assembly lines to ventilator production.
His excellency concluded his statement by renewing sincere thanks and appreciation to the governments of the Gulf Cooperation Council States and the National Standardization Bodies for all the precautionary measures taken to face the spread of Corona virus with the aim of providing the utmost protection and safety for citizens and residents, stressing the importance and commitment to apply Gulf standards and technical regulations for consumer protection, environment and public health, encouraging Gulf industries and products, supporting the Gulf economy, and facilitating the flow of goods between the GCC states.