The exhibition and the second Saudi International Quality Forum (Saudi Qualex)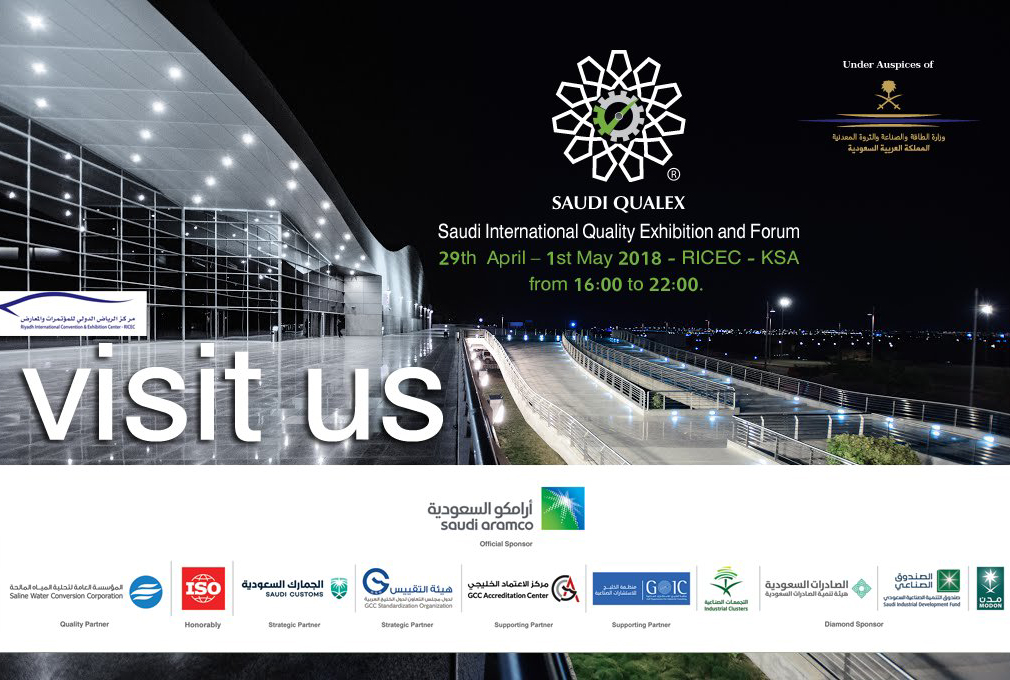 On Sunday, 29 April 2018, the exhibition and the second Saudi International Quality Forum (Saudi Qualex) will be held at the Riyadh International Convention and Exhibition Center, Riyadh, Kingdom of Saudi Arabia during the period 29 April to 1 May 2018 under the patronage of His Excellency Minister of Energy, Industry and Mineral Resources Eng. Khalid bin Abdul Aziz Al-Falih. In its second version, The Saudi Qualex's theme is: "Quality of Industry for an Integrated and Sustainable Economy".
The GCC Standardization Organization (GSO) participates in the exhibition and the Saudi Quality Forum as a strategic partner, in addition to presenting several specialized working papers by GSO's specialists covering many topics including the Quality Infrastructure, Gulf Scheme of Conformity Assessment, product safety, the role of standardization activities in the implementation of Gulf legislation.
The Saudi Qualex will be attended by Mr. John Walter, President of the International Organization for Standardization (ISO), Mr. Peter Anger, founding member of the International Accreditation Organization (ILAC), and several local and regional experts and quality scientists.
Saudi Qualex is based on the vision of Saudi Arabia 2030, the initiatives of the energy system, industry and mineral wealth, as well as Gulf and international strategies in the field of standardization and accreditation.
The forum will also discuss several important topics such as quality as a strategic requirement to enhance economic strength and its role in the development and sustainability of industrial infrastructure, ways of empowering small and medium enterprises and entrepreneurship, as well as opportunities and challenges for quality infrastructure, and the importance of standards for quality assurance and consumer protection. In facilitating trade exchange.
Saudi Qualex aims at promoting the growth and development of the industrial innovation and entrepreneurship environment, contributing to improving the efficiency and sustainability of the industrial sector, enhancing the quality and competitiveness of national industries at the international level, and raising awareness of the role of standards in quality assurance and consumer protection. And supporting Gulf efforts to develop a sustainable quality infrastructure.
The Saudi Qualex Forum aims at an integrated network of specialists, stakeholders in the field of quality, from the governmental and industrial sectors, laboratories, quality inspection and testing companies, authorities and supervisory bodies, as well as private sectors, small and medium enterprises and entrepreneurs. And exchange of experiences that are effective and successful.
More than 30 specialized lecturers are participating in the Saudi Qualex forum. Saudi Qualex also has a distinguished trade show with an area of 3000 square meters and the participation of more than 60 companies.