GSO organizes the Gulf Standardization Week 2022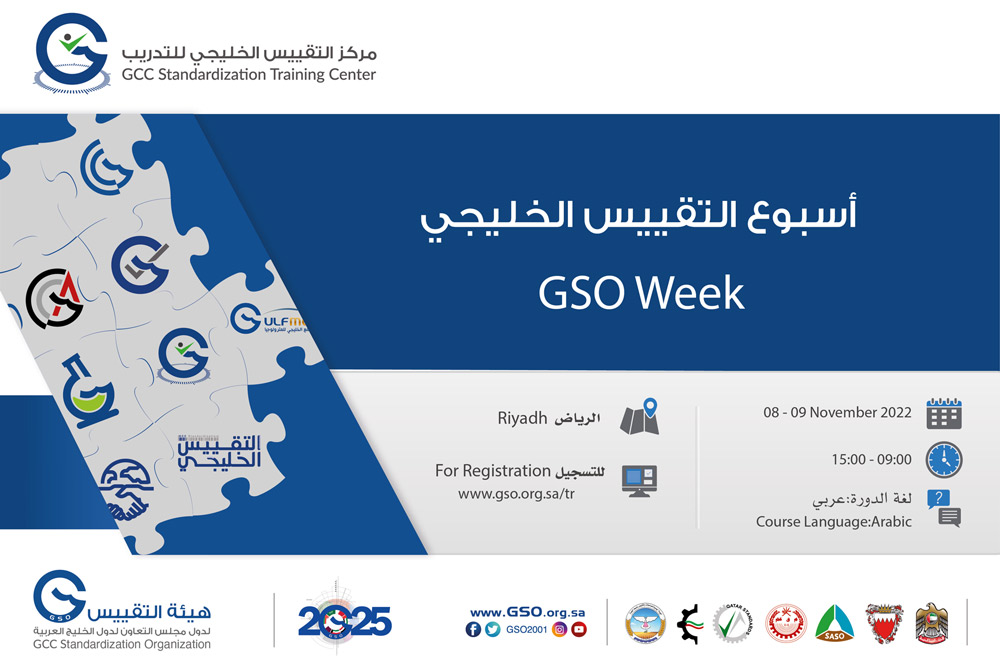 The activities of the Gulf Standardization Week 2022, starts tomorrow Tuesday 8th November 2022. The event will run for two days; 08-09 November, 2022, at GSO headquarters in the Diplomatic Quarter, Riyadh.
It is organized by the Standardization Organization for the Cooperation Council for the Arab States of the Gulf (GSO), in cooperation with the General Secretariat of the Gulf Cooperation Council (GCC), and the Saudi Standardization, Metrology and Quality Organization (SASO).
The working papers, distributed over four sessions, tackle topics on enhancing Gulf industries, the Gulf Regulatory system to control products in the Gulf common market, and regional and national experiences.
Participation in the event encompasses the International Organization for Standardization (ISO), the European Committee for Electrotechnical Standardization (CENCENELEC), Regional Standards in the Middle East and North Africa, GSO, SASO, the Yemen Standardization, Metrology and Quality Control Organization (YSMO), as well as the Gulf Accreditation Center (GAC), Gulf Health Council (GHC), the Customs Union Authority of the Cooperation Council States, the Gulf Metrology Organization (Gulfmet), the Statistical Center for the Cooperation Council for the Arab countries of the Gulf (GCC-Stat), in addition to the Abu Dhabi Council for Conformity and Quality (QCC).
More than 18 speakers, representing the aforementioned Organizations, will present their papers.
By organizing this event, GSO aims to promote the various standardization activities, highlight the importance of standardization in protecting the health and safety of the consumer and the environment, as well as in supporting the Gulf industry and promoting exports, and eliminating technical barriers to trade (TBT) with a view to facilitating and boosting trade exchange and supporting the Gulf common market.  Successful experiences of Member States and corresponding standardization organizations will also be highlighted.