GSO's President stresses the importance of cooperation with Jordanian Standards and Metrology Institution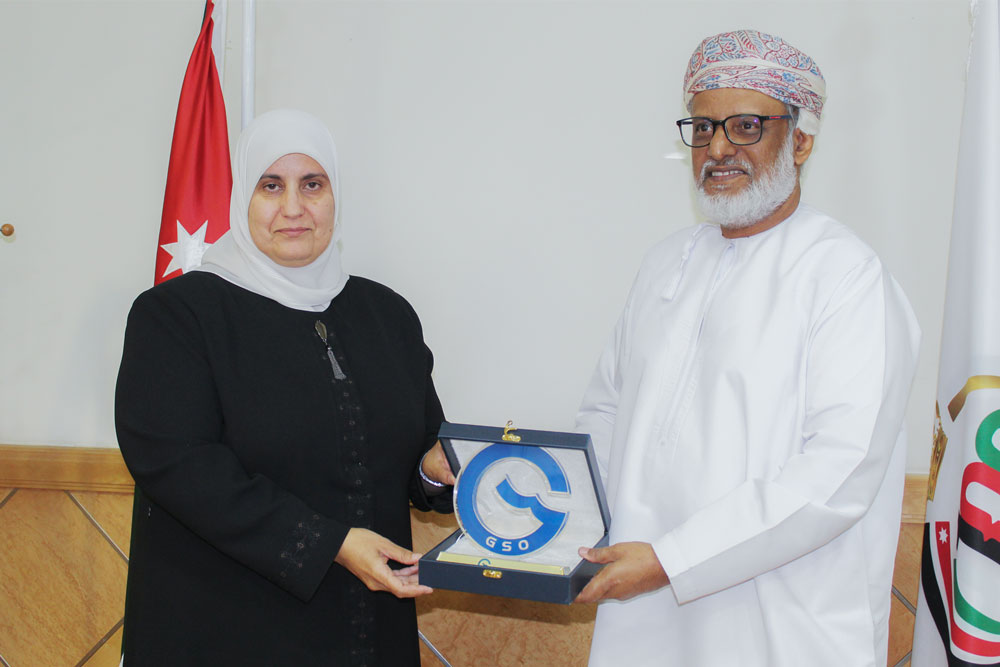 His Excellency Mr. Saud bin Nasser Al-Khusaibi, President of the Standardization Organization for the Cooperation Council of the Arab States of the Gulf (GSO), stressed the importance of strengthening bilateral cooperation between GSO and the Jordanian Standards and Metrology Institution (JISM) in various disciplines of standardization in order to contribute to eliminating the technical barriers to trade and supporting the economic relations between the GCC countries and the Hashemite Kingdom of Jordan.
This came during the bilateral meeting that was held between the two sides at JISM headquarters on 28 September 2022, in the presence of Her Excellency Eng. Abeer Barakat Al-Zuhair, Director General of JISM and a number of assistants and specialists.
The meeting took place to follow up on discussions and recommendations of the work of the third Jordanian Gulf Economic Communication Forum, which was held in the Jordanian capital, Amman, under the theme (New Horizons for Economic and Investment Cooperation), during the period from 27-28 September 2022.
In the meeting, the two sides watched the presentation by JISM, which outlined the tasks, activities, achievements and strategic vision of JISM, as well as the presentation by GSO, which reviewed the role of GSO in achieving the economic integration of the GCC countries in order to achieve the Gulf common market, the customs union and the single-entry point, which provides for consumer protection, public health and the environment. GSO also reviewed its most prominent achievements in the field of Gulf, regional and international standardization.
Al-Khusaibi hailed JISM efforts and achievements in the fields of standardization and quality infrastructure, stressing the importance of exchanging information and technical expertise in the fields of standards, metrology, conformity certificates, participating in technical committees specialized in developing standard specifications, and setting a plan for the priorities of standardization to serve the needs of both sides, and keep abreast with global trends.
On her part, Al-Zuhair pointed out that harmonizing standards and technical regulations can greatly contribute to eliminating barriers to trade between Jordan and the GCC countries, noting the need to participate in the work of technical committees of both sides to achieve this harmonization that will pave the way for economic integration.
She also affirmed that JISM is working with its counterparts in the Arab countries through AIDSMO and GSO to unify stances in international forums, expressing interest in participating in the workshops, forums and regional training programs organized by GSO to benefit from Jordanian expertise and competencies.
The visit involved a field tour to the various laboratories of JISM. His Excellency the President of GSO listened to a briefing by the relevant technicians, expressing his admiration for the advanced scientific and technical level possessed by JISM and its staff team.
At the conclusion of the meeting, His Excellency Al-Khusaibi presented Al-Zuhair an honorary shield bearing the logo of GSO.