The Ministerial Committee for Standardization Affairs held its Third Meeting in Manama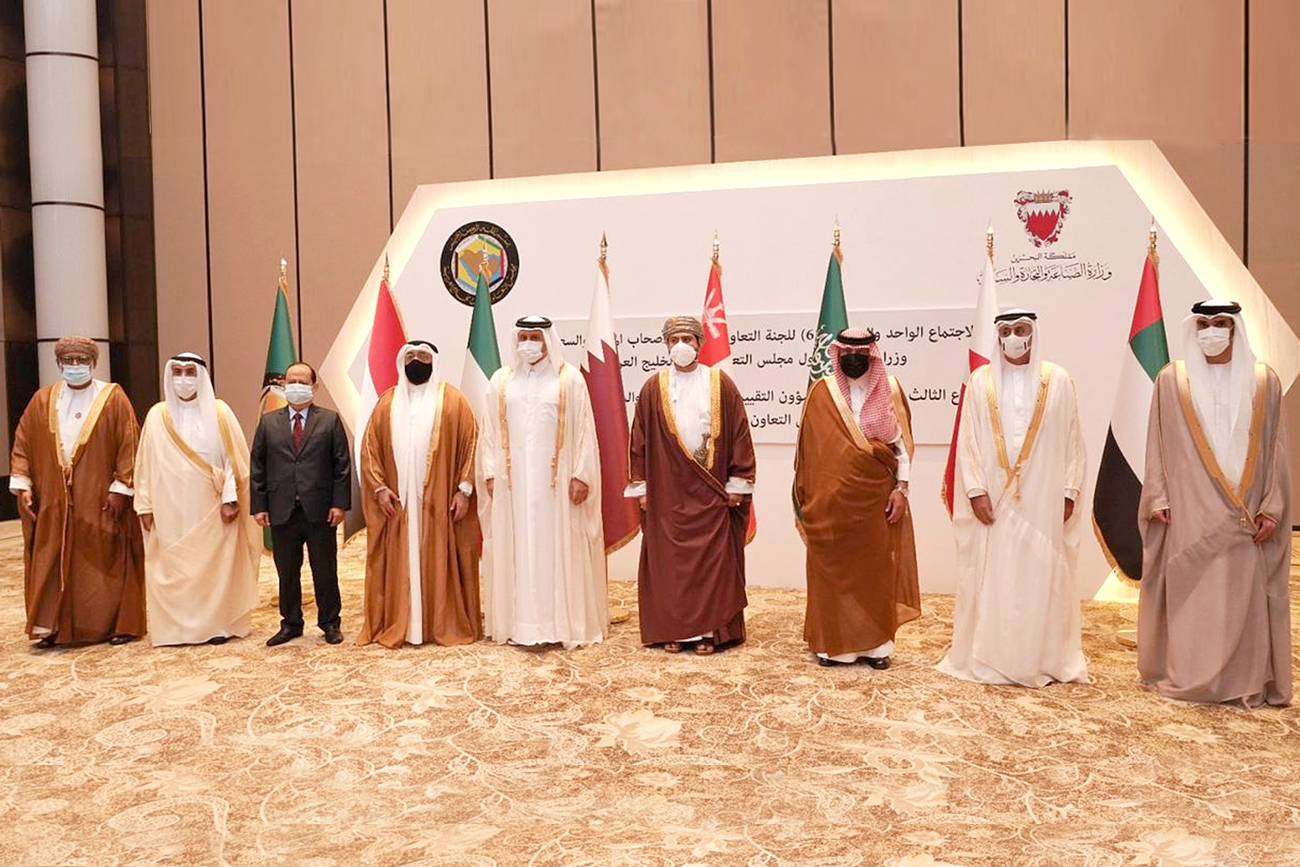 The GCC Ministerial Committee for Standardization Affairs held its third meeting on October 20, 2021, in the city of Manama, Kingdom of Bahrain, under the chairmanship of His Excellency Mr. Zayed bin Rashed Al Zayani, Minister of Industry, Commerce and Tourism, Chairman of the current term, and  in the presence of their Excellencies, heads of delegations of countries, members of the Ministerial Committee for Standardization Affairs, and the participation of H.E. Dr. Nayef Falah M. Al-Hajraf, Secretary General of the Gulf Cooperation Council (GCC), and H.E. Mr. Saud bin Nasser Al-Khusaibi, president of the GCC Standardization Organization (GSO).
H.E. Mr. Al Zayani welcomed the honorable attendees and H.E. Dr. Ali Al-Ahmadi, the Ambassador of the Republic of Yemen in the Kingdom of Bahrain, representing the Minister of Industry and Trade of the Republic of Yemen, H.E. Mr. Mohammed bin Mohammed Hizam Al-Ashwal, the member of the Ministerial Committee.
Mr. Al Zayani affirmed that the Ministry of Industry, Commerce and Tourism in the Kingdom of Bahrain is implementing the vision of the GCC, and it believes in partnership with the standardization bodies of the Gulf Cooperation council countries, which comes in the context of general cooperation between brothers in various fields, especially the vital fields, including the standardization sector.
Noting the gains and advantages that have been gained through solidarity in the various fields of standardization, which would support the Gulf economy by emphasizing the importance of the imported and exported products meeting the proper technical requirements and conformity assessment procedures aiming at preserving human safety and health, protecting the environment, and facilitating trade exchange between the GCC Member States and the smooth flow of commercial products between them, in line with the laws and regulations in force internationally.
Topics on the agenda were reviewed and discussed during the meeting, including the discussion of the report of the GSO's president on the work progress during the period (April – September 2021). The report included GSO's efforts and achievements in supporting the joint Gulf work in the fields of standardization based on the strategic goals and objectives of GSO, and to achieve the organization's mission and its vision in leading the standardization towards the international excellence.
in addition to that, the Ministerial Committee discussed the draft budget approval for the fiscal year 2022 including the strategic projects and initiatives for the same year and within the GSO strategic plan 2025.
It is worth noting that the GSO aims to unify the various standardization activities and follow up their implementation and commitment in cooperation and coordination with the standardization bodies in the member states, which contributes to the development of trade, consumer protection, environment and public health, encouraging Gulf industries and products to support the Gulf economy.