GSO Participates in the 55th Meeting for the Arab High Committee for Standardization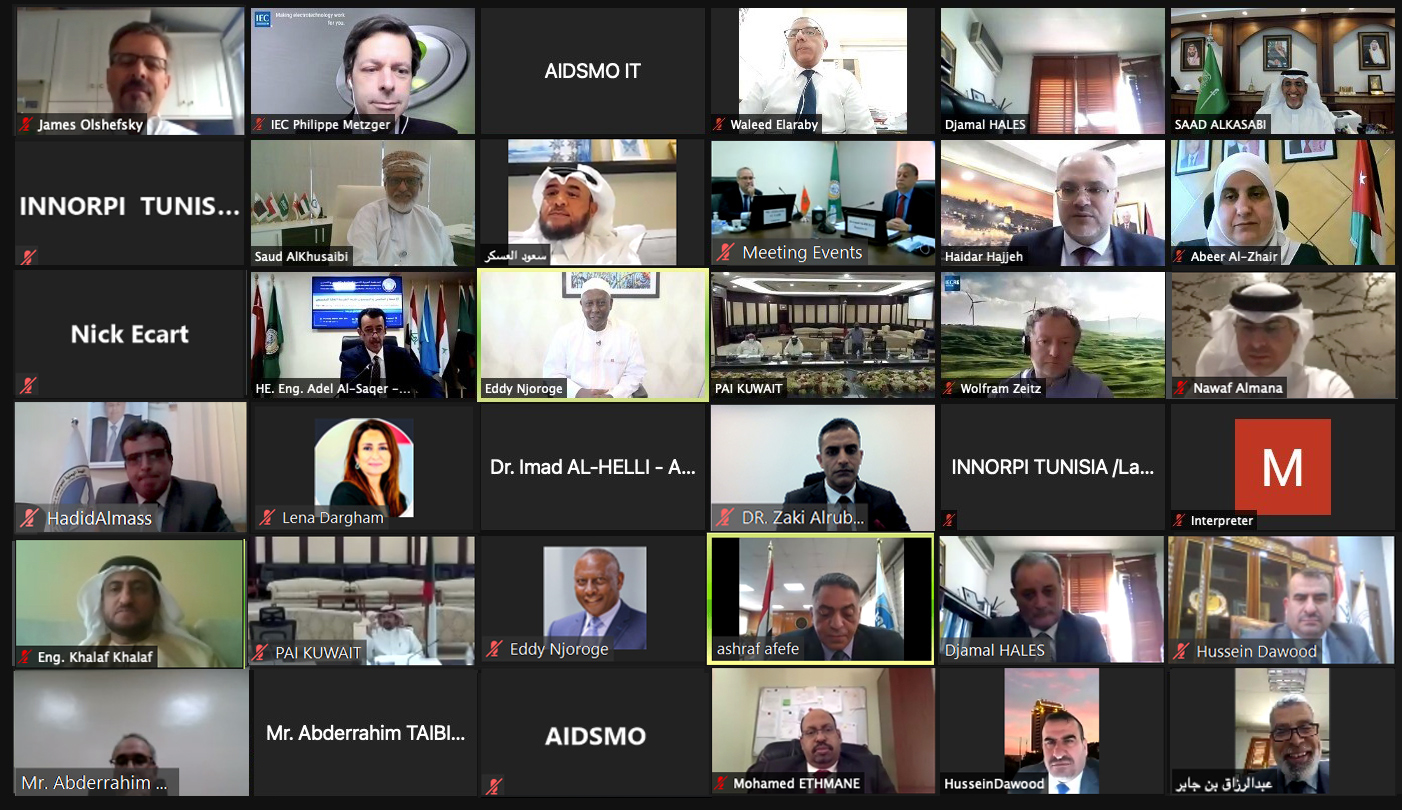 GCC Standardization Organization (GSO) has participated in 55th meeting of the Arab High Committee for Standardization (Videoconference, 25/3/2021) Affiliated to the Arab Industrial Development, Standardization and Mining Organization (ADISMO), which was held to coincide with the celebration of the Arab Standardization Day of this year on March 25, 2021.
The meeting was attended by delegations from 18 Arab countries and representatives of international and regional organizations, as well as the President of the International Organization for Standardization (ISO), the Secretary General of the International Electrotechnical Commission (IEC), the GSO President, Director of External Relations at the American Society for Testing and Materials (ASTM International), and a representative of the General Secretariat of the League of Arab States.
At this meeting, GSO presented its journey over 17 years of success and leading role in standardization activities in the region, and its main role in supporting General Secretariat of the Cooperation Council for the Arab States (GCC) to implement the economic agreement in a way that contributes to strengthening the common Gulf market and the customs union among the member states. GSO presented its achievements in the field of Gulf standards and technical regulations that reached 23 covering many vital sectors in the member states, the Gulf Scheme for Conformity Assessment in the Gulf Common Market, Notification, the Gulf conformity tracking system (GCTS). GSO highlighted its main role in setting the elements of the quality infrastructure in the member states through the establishment of the GCC Accreditation Center (GAC) recognized internationally in June 2016, the GCC Association for Metrology (GULFMet) recognized internationally in October 2015, the GCC Association of Laboratories (GCCLAB), and the GCC Standardization Training Center.
At the regional and international level, GSO also presented its achievements in the field of standardization through its distinguished relationship and partnerships with the International Standardization Alliance, namely, the (ISO), (IEC) and (ITU), and the signing of (62) MoU's and technical cooperation agreements with many regional and international organizations with the aim to enhance the international standardization for better life in term of standards harmonization and mutual recognition of conformity assessment procedures, knowledge transfer, and capacity building.
In this meeting, His Excellency Mr. Saud bin Nasser Al-Khusaibi, GSO president, congratulated AIDSMO on its new name, after adding the standardization activity, which was approved by the ministers, members of the Economic and Social Council of the League of Arab States last month.
It is worth noting that GSO signed an MoU with AIDSMO in 2009 and it was renewed in February 2018. The MoU includes cooperation in the fields of standardization in a way that promotes joint Arab works and supports active participation in regional and international standardization.