GSO Participates in ISO/RSO Consultative Meeting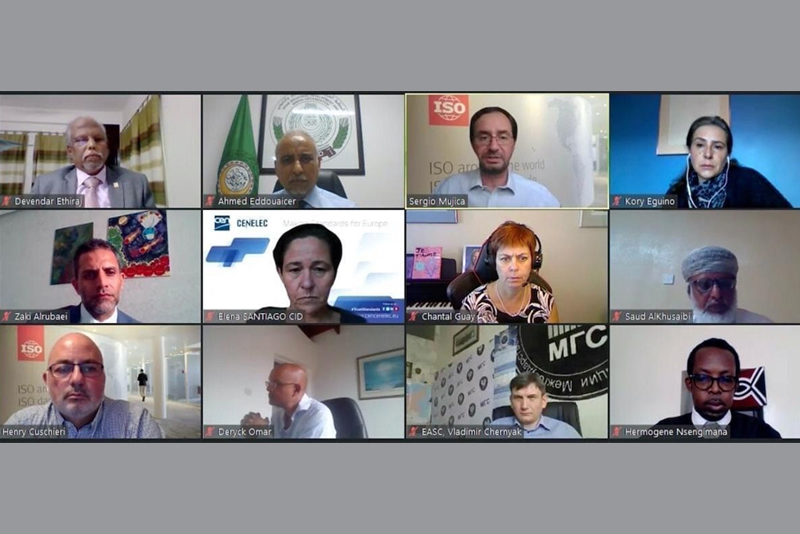 His Excellency Mr. Saud bin Nasser Al-Khasibi, participated in the consultative meeting organized by ISO with regional and sub-regional standardization organizations via visual communication technology,28 July 2020. The meeting was about reviewing the policy of ISO aiming at enhancing cooperation and coordination and exploring more possible opportunities and synergies for cooperation and promote communication, collaborations, and partnerships between ISO and these organizations.
In the opening speech, the Secretary General of  (ISO), Mr. Sergio Mujica, stressed that regional and sub-regional organizations in the field of standardization have become a priority in the policy of the ISO due to the important role that these organizations play in developing standards at the national level of its member states and at the international level.
In this meeting, ISO reviewed its Regional Engagement Policy within the framework of its new 2030 strategy, and the developments of the operational work plan for developing countries APDC4, including the proposed framework for cooperation and participation, and possible cooperation opportunities between ISO and regional and sub-regional organizations for standardization on the one hand, and between regional and sub-regional standardization organizations themselves from on the other hand, including, harmonization of RSO's strategy with ISO strategy, joint implementation projects, sharing information and best experiences and practices, encouraging the regional adoption of international standards, capacity building programs, technical assistance, and framing that cooperation in memoranda of understanding and technical cooperation between these organizations and ISO.
In addition, the meeting also touched the outputs and the recommendations of the workshop "Regional organizations working in the field of standardization in the international context" that has been held in Berlin, Germany on September 17, 2017. which emphasized the importance role of regional organizations in coordinating the work of its member states and their participation in the work of international standardization. The meeting included many proposals and suggestions made by the participants, in a way to enhances and support ISO initiative. I addition to the GCC Standardization Organization (GSO), a number of regional and sub-regional organizations participated in this meeting such as the European Committee for Standardization (CEN), ASEAN Consultative Committee for Standards and Quality (ACCSQ), the Arab Industrial Development and Mining Organization (AIDMO), the African Organization for Standardization (ARSO), The Pan American Standards Commission (COPANT), the Pacific Area Standards Congress (PASC), the Southern Asia Regional Standards Organization (SARSO), the CARICOM Regional Organization for Standards and Quality (CROSQ), the East African Community (EAC), the Economic Community of West African States (ECOWAS), as well as the Southern African Development Community (SADC).