GSO Participates in the Exhibition for the 24th World Energy Congress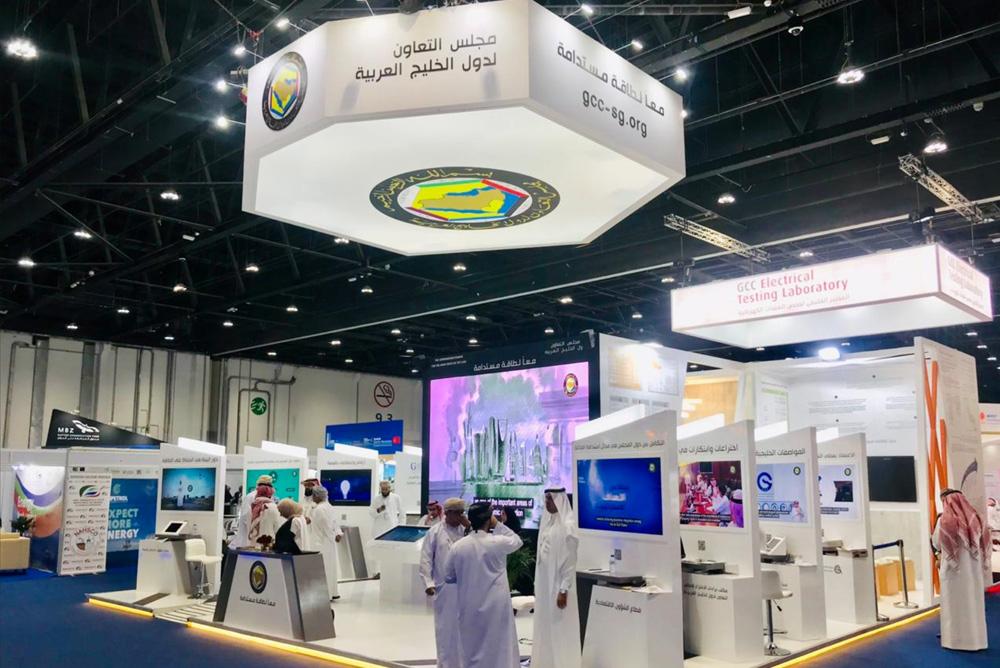 GCC Standardization Organization (GSO) participate in the exhibition accompanying the 24th World Energy Congress, within the stand of the Cooperation Council for the Arab States of the Gulf suite.
The conference started Monday 9th of October in Abu Dhabi under the patronage of His Highness Sheikh Khalifa bin Zayed Al Nahyan, President of the United Arab Emirates. It is organized by the World Energy Council, with the participation of a number of heads of state, 72 ministers and 500 chief executives, and a number of pioneers in the energy sector aim to meet the challenges and develop a roadmap for the future of global energy.
The conference reviews during five days,  more than 80 dialogue sessions under the issues of energy and developments in the sector, Participants are discussing the developments of the energy sector with all its components of oil, gas and electricity, as well as the development of sources of clean coal, renewable and nuclear energy, transport and energy efficiency, finance, investment, consultancy and so on. the conference will provide an ideal platform for larger and more diversified talks about the significant development of the energy industry at the regional and global levels.
The GCC Pavilion at the exhibition includes presentations by a number of sectors and specialized GCC organizations dealing with energy and sustainability in order to highlight the efforts and achievements of the economic integration achieved by the GCC in this vital and important area.
In a statement, HE Khalid Al-Sheikh, Director General of the Bureau of Economic and Development Affairs and Chairman of the Organizing Committee of the GCC Pavilion, expressed the keenness of the General Secretariat during its participation in the exhibition to highlight the efforts exerted by the GCC system in this vital area. As well as the plans, projects and strategies implemented to ensure the sustainability and prosperity of energy in the implementation of the ambitious economic vision of the GCC countries, and to achieve the sustainable development goals set by the United Nations related to energy, in addition to the great efforts exerted by the GCC countries to strengthen their energy relations and cooperation with various countries and economic blocs to ensure Sustaining the growth and prosperity of the global economy.