GSO Organizing the 5th GCC Laboratory Proficiency Conference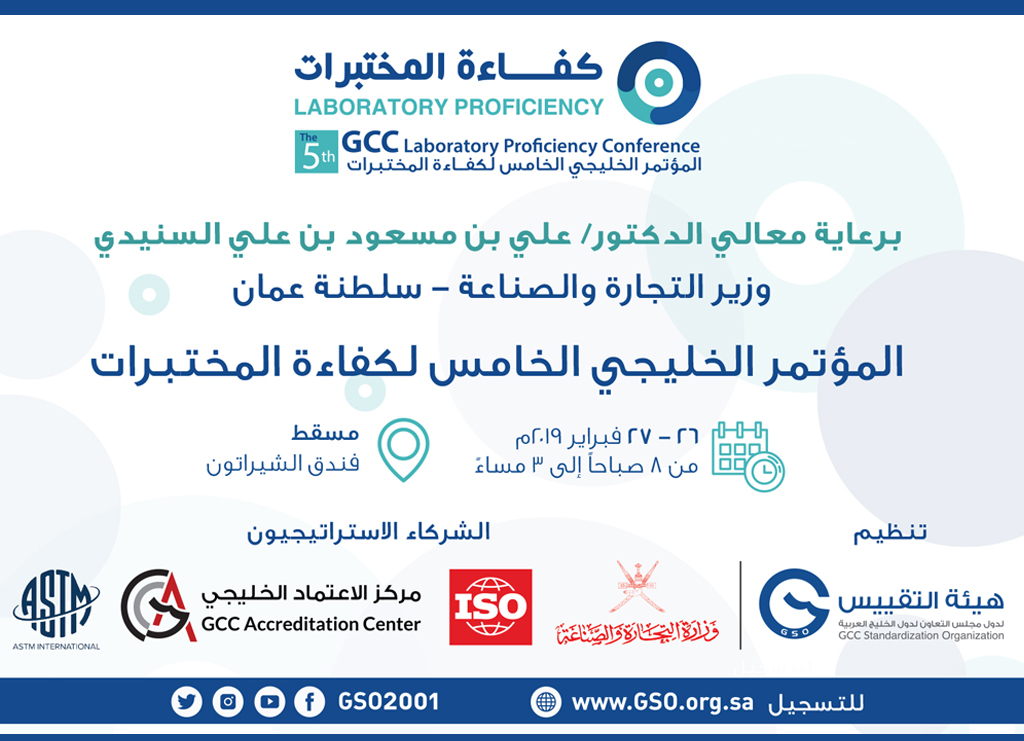 Under the patronage of His Excellency Dr. Ali bin Masood bin Ali Al Sunaidi, Minister of Commerce and Industry of the Sultanate of Oman, the GCC Standardization Organization (GSO) organized the 5th GCC Laboratory Proficiency Conference in cooperation with the Ministry of Commerce and Industry in Oman, ISO, the GCC Accreditation Center and (ASTM International) on 26-27 February 2016 in Muscat.
HE Saud bin Nasser Al Khusaibi, GSO Secretary General explained that the organization of the 5th GCC Laboratory Proficiency Conference comes within the strategic direction of GSO and the national standardization bodies (NSBs) in member countries in developing the infrastructure of standardization and quality in NSBs.
In addition, he pointed out that GSO initiated this annual conference in its fifth version with the belief of the importance of laboratories in supporting the national economy and the competitive industry, focusing on the petroleum and petrochemical sector to present the latest developments and share best practices in laboratory proficiency and discuss the most important challenges, with a view to enhance the Proficiency of laboratories towards getting accreditation.
Mr Al Khusaibi mentioned that GSO has carried out more than 370 Proficiency Tests with the participation of more than 2236 laboratories in order to enhance the ongoing confidence in the performance of laboratories and users of its services, regulatory bodies, laboratory accreditation bodies and other organizations that specify laboratory requirements.
He pointed out the establishment of the GCClab which works under GSO umbrella, which came as a fruit of the previous conferences, and called on the laboratories to benefit from this important platform and register in the membership of the assembly and participate in the various technical committees affiliated with it and communicate their votes to legislators, regulators and accreditation bodies, to regulate the field of laboratories and cooperation in the interest of the Gulf common market and consumer protection.
It is worthy to mention that relevant governmental bodies, companies and laboratories specialized in the GCC countries in the areas of accreditation and laboratory Proficiency can attend and participate freely in the conference and enrich it with suggestions and ideas and exchange views on ways to support the efforts of GSO and NSBs in Member States.