Prince Khalid bin Sultan Al-Abdullah Al-Faisal Visits GSO's Booth in LAKY ALKIADA FORUM AND EXHIBITION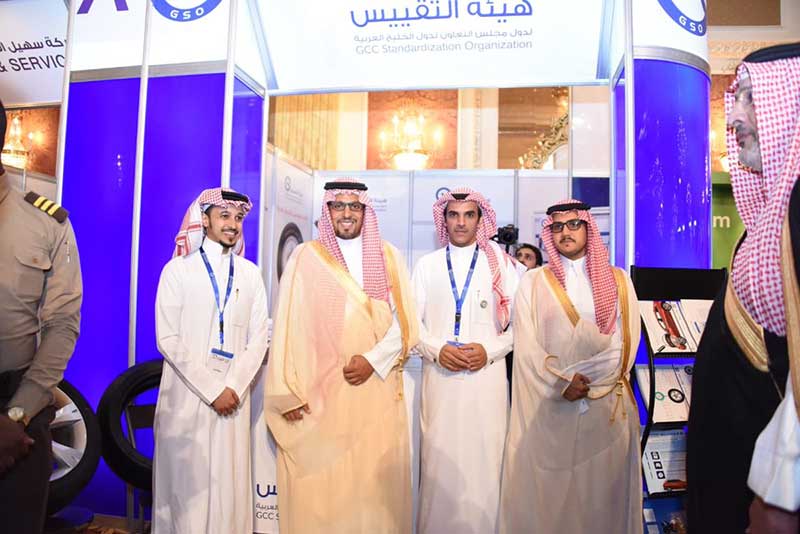 The GCC Standardization organization (GSO) welcomed the honor visit of His Royal Highness Prince Khalid Bin Sultan Abdullah Al Faisal, Chairman of the Saudi Arabian Federation of Motor and Motorcycle Sports (SAMF) TO the GSO's booth at the exhibition held in Jeddah on Sunday, July 8, 2018. Prince Khalid Bin Sultan listened to an explanation about the role of the GCC Standardization organization in the field of standardization and its related activities and the GSO's standards and technical regulations related to Motor, Motorcycle, and Tires' safety.
This came after the opening of the Forum and Exhibition which coincides with the historic event of women driving the car in Saudi Arabia and it was organized by Al-Tayyar company in Jeddah from 8th-9th of July 2018, and represented by a number of agencies, including the Ministries of Interior and Media, and a strategic partnership from the Traffic Department, the GCC Standardization Organization (GSO) and the Saudi Committee for Traffic Safety, as well as a number of car dealers, banks, insurance companies and logistics providers.
In addition, Princess Duaa bint Mohammed, the wife of His Highness Prince Mohammed bin Abdullah bin Turki bin Abdulaziz Al Saud, has visited the GSO's booth as well as a number of media influencer, journalists and interested visitor. They listened to a short introduction on the GSO's role and an explanation on automotive and tires' safety requirements.
The participation of the GCC Standardization Organization (GSO) took place at the "LEKY ALKIADA " forum and exhibition" in order to raise awareness about the safety requirements in cars and tires.