GSO Welcomes the French Ambassador to the Kingdom of Saudi Arabia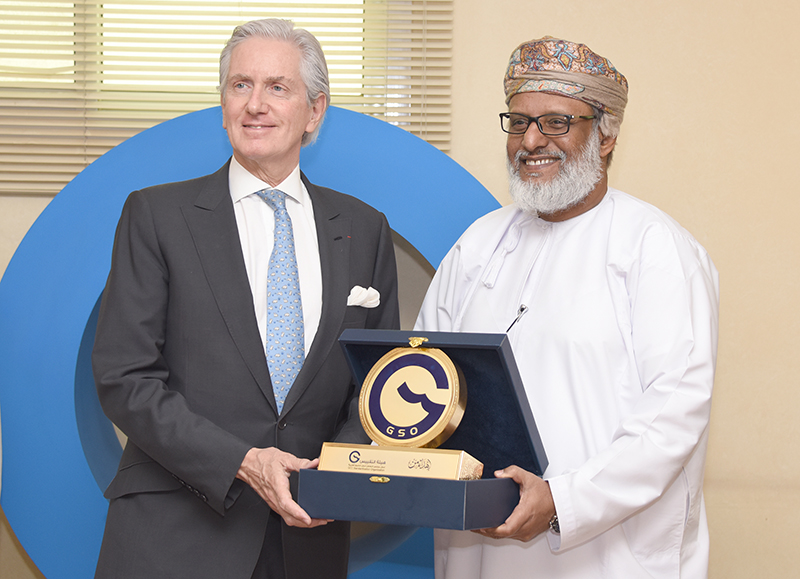 His Excellency Mr. Saud bin Nasser Al-Khusaibi, Secretary General of the GCC Standardization Organization (GSO), welcomed HE François Gouyette, Ambassador of the Republic of France at the Kingdom of Saudi Arabia. The meeting discussed technical cooperation between the two sides in the framework of the GSO's efforts to enhance its continuity and sustainable partnership with related parties.
GSO Secretary General thanked the French Ambassador and his accompanying delegation for the visit, stressing the importance of such visits in enhancing cooperation relations in the fields of standardization for its importance in the protection of health and safety of consumers and environment and facilitating trade exchange.
In his turn, HE François Gouyette, expressed his deep congratulation and best wishes of success to HE Mr. Al-Khusaibi in the fulfillment of his new task as a GSO Secretary General. He also thanked him and his team for the warm welcome and arranging for this important visit.
During the meeting, a presentation about GSO and its activities and role in the field of consumer protection and support the economy and facilitate trade exchange was delivered to the delegation. Several topics related to the GSO standards and Technical Regulations were also discussed. The delegation also stressed the importance of exchanging experts between the two sides and to benefit from the French experience in issuing standards related to the field of cosmetics, safety in hospitals and clinics, and other areas of common interest.
At the end of the meeting, GSO Secretary General presented the GSO logo souvenir to His Excellency the Ambassador of the Republic of France.