GSO Secretary General launched the Website of the GCC Standardization Magazine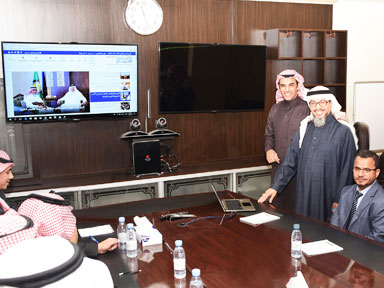 HE Mr. Nabil bin Amin Molla, GSO Secretary General, and in the presence of the directors of departments and heads of sections, launched the website of the GCC Standardization Magazine.
This initiative comes in line with the GSO's objectives of spreading awareness of standardization through all available means, and keeping abreast of the developments in the field of electronic media and benefiting from the technology in increasing the readership base of its publications and communicating with the various segments. The aim is to contribute to spreading awareness about the importance of standards and technical regulations in Consumer and environment protection and supporting and developing the Gulf economy.
The website of the magazine includes an archive of the magazine's previous printed volumes, as well as various other lists, including the highlights of the standardization days, publications, surveys, investigations as well as various articles related to standardization and associated activities.
It should be noted that Gulf Standardization Magazine is a specialized journal, the first of which was issued in September 2008 and has been edited since then by Professor Ahmed Muati Al-Mutairi, Dr. Zaki Al-Rubai and Mr. Hani Al-Adimi.